Consumers of today are always connected, whether they are at home, at work, or anywhere else. The OOH industry has been developing fresh concepts and reinventing itself to increase its influence in the pDOOH and DOOH channels. Digital out-of-home (DOOH) advertising is another way to reach consumers through digital media. Because of the expansion of DOOH, programmatic DOOH advertising has also become more well-known. 
pDOOH has the potential to be very advantageous for advertisers as businesses work to increase their reach to the appropriate audience at the appropriate location in a creative approach.
What is DOOH?
Digital out-of-home (DOOH) advertising is the practice of distributing advertising messages in communal locations using both hardware and software. DOOH offers a wide range of contextual and creative options. You can alter the advertisement based on current events, such as sports scores, traffic conditions, etc., by running quick video snippets, developing interactive consumer experiences, or doing all three. Digital out-of-home (DOOH) advertising has the advantage of being able to target individuals at times when they are most likely to respond to an effective advertisement. These advantages include targeting, automation, and measurement.
Additionally, DOOH advertisements can be set up to gather client information, gauge how viewers perceive your business or immediately provide leads. This leads to enhanced brand recall, excellent view rates, and follow-up behaviours. Not to mention, DOOH can be automated. Advertisers can purchase OOH advertisements and have them air during certain times and places.
What is Programmatic DOOH?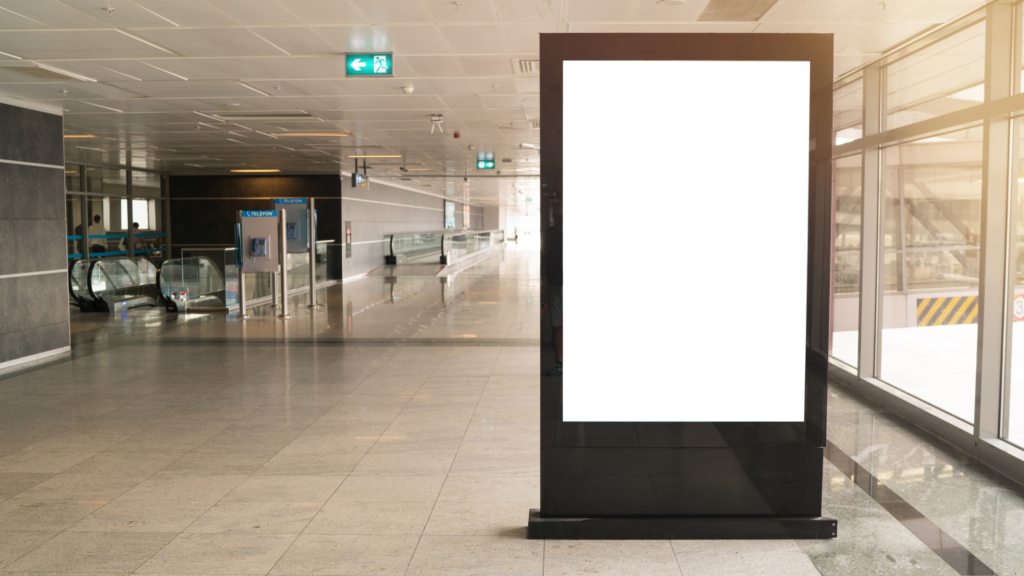 Programmatic DOOH (pDOOH) is a new and uncharted area of advertising. The implementation of a specific platform defines the automated purchase, sale, and distribution of DOOH advertising.
How does it function?
In order to create a thorough representation of how and where consumers are spending their time, pDOOH makes use of real-time data from a range of sources, including but not limited to location-based mobile data. Using digital billboards in the real world, the technology then converts these behavioural tendencies into reliable data that advertisers may use to target particular demographics. 
Advertisers specify a target audience, as well as demographic and other requirements for their pDOOH campaigns, including campaign budget and duration, weather, time of day, and day of the week. The ability to manually select DOOH screens in areas where the target audience is most likely to be present, compete for space on those screens, and begin campaigns when all prerequisites are completed is crucial.
For businesses and marketers, programmatic DOOH opens up a whole new realm of data-driven advertising possibilities.
Programmatic DOOH Benefits
Relevancy within Context
Programmatic Advertising can be purchased via DOOH based on pre-established standards. Your choice to buy the advertisement may be influenced by a variety of factors, including sports, traffic, the environment, the time of day, and more. Advertisers have access to unmatched, highly-effective formats through DOOH that are likely to draw passersby's attention. Effective ways to approach clients in the real world incorporate place-based displays that seamlessly integrate into contextually relevant settings and large screens that are hard to overlook. Utilizing ambient environments and regular exposure has been shown to boost brand awareness, consideration, purchase intent, foot traffic, and revenues.
AI Usage
Thanks to the integrated artificial intelligence in PDOOH, advertisers have the flexibility to tailor their content to the specific audience and what they are doing as they pass the DOOH screen. Regardless of whether they are based on first- or third-party data, advertisements may also respond to the weather, demography, or any other data triggers.
Stats & Measurement
Today's technology and data make measurements irrelevant. With pDOOH, end-to-end measuring is now possible. Thanks to the widespread use of IoT devices, advertisers can now determine the various audiences in the area as well as their interests. They can also assess metrics like footfall, projected views, online conversion, brand boost, sales elevate, and other metrics.
pDOOH should be incorporated into your branding plan. Contact us right away if you want to know how a DOOH campaign performs or if you want to learn how cross-screen exposure influences lower or upper funnel KPIs.