Authorized Digital Sales, also known as Ads.txt is an IAB technology that ensures to sell our digital ad inventories through sellers such as Adsense, who we have identified as authorized sellers.
How does Ads.txt act as a life savior?
In general, Ads.txt helps with domain spoofing (a kind of ad fraud).Ads.text also tackles arbitrage which is not exactly ad fraud but it deals with buying and selling of Impressions at a higher rate. Ads.txt helps to solve this problem by indicating who the authorized resellers are.
Domain Spoofing also known as domain hijacking, can be used in both ways. Both methods have the same result, thus tricking the ad exchanges and other programmatic platforms Ad tech works.
Piracy sites websites riddled with website traffic and other shady websites often use domain spoofing as a way to monetize sites.
Ads.txt has helped a lot, making it harder for users to practice domain spoofing and selling illegitimate inventory to monetize their websites.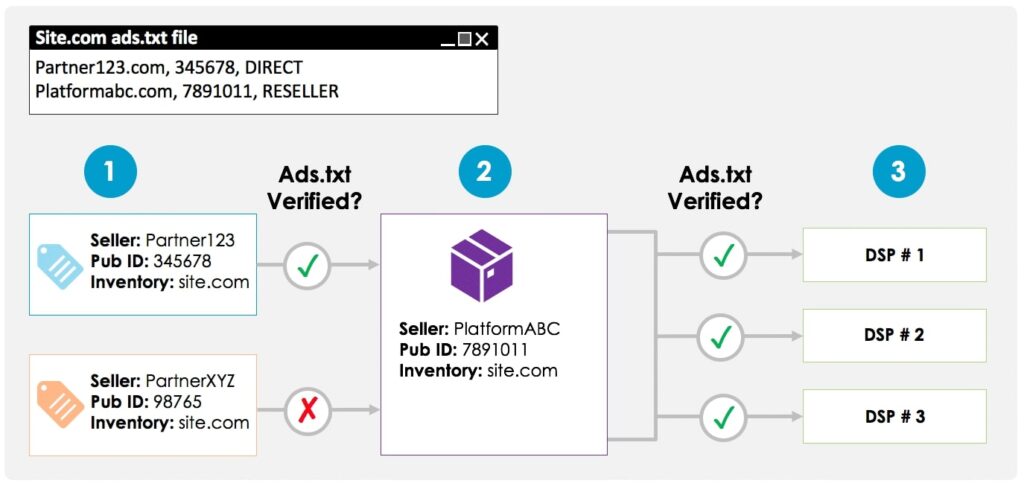 The process to Implement and Create Ads.Txt
Get all the details from network affiliates, and groups who make your inventory open to customers. This includes the domain name of the advertisement network, Publisher ID, whether the account is direct or reseller, and more.
Make an ads.txt file in a word document creation software that is compatible with the IAB. Archive and mark the file.
Finally, attach the document to the root of the domain.
Note that since subdomains are not applicable, they will not work so only use the root. This will help you connect with authorized digital sellers and websites authorized to sell their inventory.
Read this article to learn: Google Ads Vs Search Ads 360
Why Ads.txt is adopted by Publishers?
As of today, reports suggest that many publishers have adopted Ads.txt at a very increasing rate as it is a very straightforward process and eliminates one of the most crucial problems in Adtech.
How does Ads.txt help Mobile Apps?
Mobile Apps do not have a convenient place to store the list of authorized domain sellers.
The organization called app publishers, Ad Tech vendors, and app stores to provide technical feedback to help refine and improve the ads.txt for mobile apps.  
The files are publicly available and crawlable by exchanges, supply-side platforms (SSP), and other buyers and third-party vendors. To prevent a significant loss in ad revenue, you'll need to implement an file.