The rise of CTV and OTT has encouraged the idea of "cord-cutting," in which customers stop using their regular cable service in favor of only using these streaming or VOD forms. The greatest way to use the growing convergence of traditional TV and digital technology is through CTV commercials. These advertisements are tailored ones that are transmitted to TVs connected to the internet. As smart TVs and other comparable devices become a more common means to access streaming services, CTV advertising is anticipated to be the next big thing in digital marketing.
What is a CTV?
In order to allow for the streaming of video material, a connected TV (CTV) is a device that is connected to or incorporated into a television. CTVs come in several varieties, including Xbox, PlayStation, Roku, Apple TV, and others. A CTV alters the game by allowing users to access and see streaming content on a large screen. Even if mobile and PC advertising have a history of achieving results, the small screen and handheld devices are inappropriate for what CTV advertisements can offer.
What is Connected TV (CTV) Advertising?
CTV advertising, which is also known as connected TV advertising, enables businesses to communicate with consumers via OTT and smart TVs. It is skippable advertising that is directed at relevant audience segments or content channels. These Smart TVs can connect directly to the Internet or indirectly through devices like Roku or Google Chrome. The big TV screen is essential to the definition of CTV because it allows advertisers to interact with viewers in a setting similar to linear TV and because it encourages greater audience participation than other types of digital advertising.
How Do CTV Ads Work?
Depending on the preferences and habits of the audience, CTV advertising offers unlimited access as opposed to traditional advertising. The length of the scheduled program does not constrain embedded CTV advertising, so they can run for as long as they like. For targeted marketing campaigns, 15- or 30-second commercials are routinely customized using a consumer's digital profile. CTV advertisements have the potential for deeper platform integration and a "big screen" effect.
Connected TV Advertising Benefits
One of CTV advertising's main benefits is that it allows you to target TV viewers that traditional TV commercials couldn't reach. Utilizing the internet-TV connection to its fullest potential, CTV offers even more quantitative and targeted advertising alternatives.
Others incorporate:
Enhanced targeting ability
You can be assured that your marketing budget is going to your most valuable and targeted viewers by using CTV audience targeting. 
Measurable Outcomes
The programmatic platform can be used to track campaigns, including consumer journeys and video completion rates.
Expanding audiences
Connected TV advertising increases customer engagement, particularly with younger emerging audiences.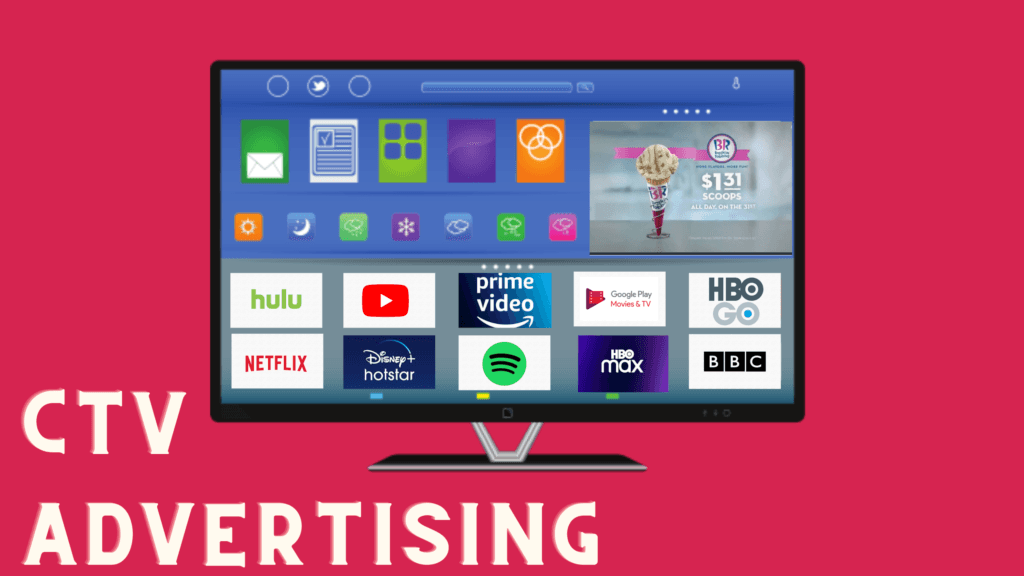 Why should I run Ads on Connected Tv (CTV) and what is so unique about it?
Mostly for awareness. A comprehensive, full-funnel campaign should include connected TV advertising as the ideal awareness element. To increase sales, advertisements may include precise targeting and reporting.
What targeting options are there when using a CTV?
Compared to traditional TV, CTV advertisements' targeting is far more advanced. When running programmatic advertising, many of the current targeting approaches, including data, geolocation, etc., may be employed.