In-game advertising, which is a great way for game developers to monetize their games, is one of the key trends in mobile game monetization. It is a well-liked substitute for brand recognition and can increase purchase intent by up to 12%.
So what is In-Game Advertising?
Selling ad space within their games is one-way game developers generate revenue. It is known as "In-game advertising." While ads come in a variety of formats, their common objective is to get people to notice them without interfering with their gaming experience. 
How does it work?
Selling advertising space to outside companies enables developers to earn money from their games. Due to their seamless integration within the game, these advertisements can be distinguished from typical banner ads.
Due to the revenue earned from the ads in their gaming apps, app makers are able to provide a free user experience. Additionally, advertisers have a very efficient approach to engaging people in their ads in order to attract new customers.
What are their benefits?
Mobile gaming advertising offers a number of benefits. In addition to making revenue from in-app purchases, app developers can improve the user experience and increase engagement by offering rewards for watching videos or delivering relevant content with in-game ads. Advertisers choose mobile gaming because it ensures brand safety and excludes user-generated content. The assurance that their ads will only play in context-relevant and appropriate gaming scenarios gives them more control. In-game advertisements also allow for accurate tracking of critical metrics like engagement, reach, and completion rate because they depend on user interaction.
In-game advertising formats
It is acceptable to employ a variety of ad types in-game without endangering user loyalty or badly affecting income. However, based on the mobile game ad formats you select, the in-game advertising revenues will change. The two main types of in-game advertising are static and dynamic advertisements.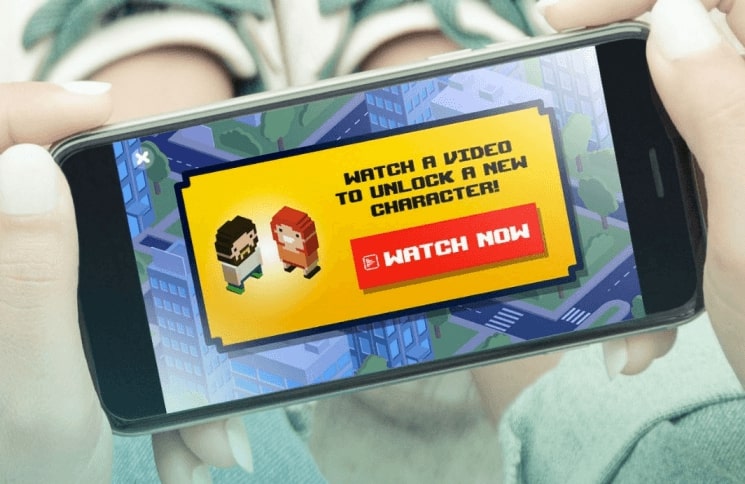 Static In-game advertising
Static ads are integrated into the game throughout the app's development. These advertisements frequently show up in the games on billboards or signs, similar to product placement in a film or music video. These ads are less common than dynamic ones because they can't be changed.
Dynamic In-game advertising
Dynamic advertisements are those that can change in-game in real-time. Advertisers can scale dynamic in-game ads quickly, offering them a lot of flexibility. Geotargeting is another option for users.
Another factor that makes dynamic advertisements the preferred option for advertisers is the variety of ad types.
Interstitial Ads

Interstitial ads are detailed, interactive commercials that take up the entire screen. This advertisement profits from the natural pauses between levels in a user's gameplay. They can house rich content with animated features, which increases the impact of the advertisement, generates a large number of impressions, and often results in high conversion rates. Customers also recall these advertisements quickly. Because interstitial ads don't interfere with the user experience, they often have high conversion rates. 
Native Banners

Similar to banner ads, Native Banners offer an inconspicuous advertising experience by blending in with the background of the page where they are placed. Native advertisements, in contrast to display banners, are embedded and hence appear as part of the content. 
Contextual Ads

Advertisers offer their digital media provider specified topics and keywords, and the provider utilizes algorithms to match the ad with relevant text, images, and topics. Contextual advertisements have become more popular due to changes in the kind of information that advertisers can gather due to the most recent privacy rules.
Rewarded Video Ads

In this format, users receive in-game currency, lives, levels, etc. as compensation for watching full-screen video ads that last between 15 and 30 seconds. Users often do not favor in-app purchases over paid video advertising.
Playable Ads

Interactive video ads are known as "playable ads." Users can play a brief preview of the game app in this format before deciding whether to download it. The main functions of the game are available in this advertisement so that users can try it before they download it. Playable ads typically decrease uninstall rates since they provide viewers with a sneak peek at how the app functions.
Advergaming

Advergaming, as opposed to just a static advertisement, is a whole game made specifically to promote a company or item. Ads for the one brand that developed the game are woven throughout the game in advergaming. For instance, the consumer could play the game using a product from the advertised brand.
Want to know more about other ad formats in advertising? Click here to read about it.
How Brands Can Target Users
Location
Brands can connect with customers by using localized advertising in a particular area. This might assist brands in narrowing down their target audience from a larger user database.
Game Time
Gamers can filter advertisements based on how much time they spend playing. Targeting users during a particular time frame is possible.
Ad Frequency
A gamer seeing the same advertisement over and over again may work against the brand's interests. In order to limit the number of times a user sees a specific ad, brands can filter users based on ad frequency.
In-game advertising Strategy
Understand Your Audience
The gaming sector has grown significantly. Furthermore, smartphone gaming is not just for teenagers. Keeping this in mind, it is essential to construct the In-Game Advertising accordingly.
Apt Placement Of Ads
The ads played should not interrupt the gamer's user experience. Positioning during breaks, before games, after games, etc., should be properly studied.
Measurement Of Campaigns
Due to the increasing degree of competition in the advertising sector, it is essential to regularly measure and optimize the campaigns, and this may be done by utilizing an MMP (Mobile Measurement Partner).