The Google Marketing Platform is an integrated ad technology platform that gives advertisers and agencies the ability to plan, execute and build successful digital marketing campaigns. Google Marketing Platform incorporates top-notch solutions to assist buyers in managing comprehensive campaigns across many platforms.
For businesses that produce and market online advertising possibilities, portal products offer inventory management and ad-serving solutions. The Google Marketing Platform products are the cornerstone of the online advertising operations of the major publishers and app developers in the world. Our Google Marketing Platform products assist clients in more quickly and successfully executing their digital media plan since they have extensive knowledge in ad serving, yield management, and inventory solution.
To help you plan, acquire, measure, and optimize digital media and customer experiences in one location, the Google Marketing Platform combines Double Click Digital Marketing and the Google Analytics 360 suite. While ensuring that you respect your client's privacy and offer them choice over their data, Google Marketing Platform enables you to deliver more relevant and efficient marketing.
The improvement of client understanding is the top objective for marketers, according to a new poll of international marketing organizations. Google Marketing Platform aids in the realization of this customer-first marketing strategy by providing tools that make it simple to cooperate and share information.
Google Marketing Platform builds on existing integrations with the Google Analytics 360 suite and DoubleClick services for advertisers. Marketers are using advertising and analytics technology together to achieve great results. For example, BookIt uses Analytics 360 to gain insights about the types of travelers who are interested in their brand and uses those insights to create more relevant travel content in Display & Video 360. You have created a campaign. As a result, his sales increased by 20%. Google Marketing Platform is now introducing ways to make our products work together even more effectively. For example, the new Integration Center helps you discover valuable connections between products and easily set them up.
Google Marketing Platform Tools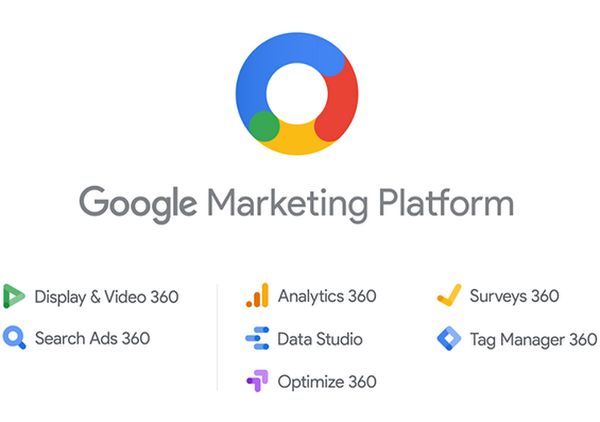 Campaign Manager
The campaign Manager controls data with ad serving, targeting, trafficking, and reporting features. The platform enables advertisers to report activity across all media channels, deduplicate conversions, set audiences, create ad trackers, and host creatives. With a full reach across the Google Marketing Platform stack and other channels, advertisers can leverage a variety of data sources to optimize each campaign.  
Search Ads 360
Search Ads 360 (formerly DoubleClick Search) is a search management platform used for campaign management and reporting for Google Ads, Bing Ads, Yahoo! Japan, Yahoo! Gemini, and Baidu – all in one interface. You can make large-scale changes across multiple platforms. And with Search Ads 360's sophisticated bid strategies and customizable reporting metrics, you can seamlessly make these changes across campaigns, ad groups, keywords, and account-wide ads. 
Display & Video 360
Display & Video 360 (formerly DoubleClick Bid Manager) is a demand-side platform that allows advertisers to schedule display, native, video, and audio (including YouTube) campaigns. Additionally, advertisers can control creatives, apply audience data, and buy high-quality inventory directly from PMPs and Programmatic Guaranteed. 
Analytics 360
Analytics 360 is a measurement and attribution tool that helps advertisers understand how digital marketing is influencing user behavior. The platform enables audience management across all Google Marketing Platform properties, provides a comprehensive view of your customers, and improves performance with advanced funnel reports, attribution models, and Big Query integration for further analysis. and monitor the effect. You can also move audiences to Search Ads 360 and Display & Video 360 and run attribution analysis using account attribution data, which is not available in Google Analytics.
Optimize 360
If you're interested in conversion rate optimization (CRO), Optimize 360 lets you test variations of your website or app to personalize the user experience. You can run different tests simultaneously, including A/B, multivariate, and redirect tests. Optimize 360 is natively integrated with Analytics 360, making it easy to use with other tools. So, you can quickly see where your site can be improved and apply those changes to your tests.